Keeping animals happy and healthy will sometimes require specialty care. This is especially true when your mare is breeding. At Doggie Dude Ranch serving Ames, IA, we can assist you during this very important time. Keep reading to learn more.
Breeding
Breeding can be an exciting time for a horse owner. To ensure that your mare has the best possible experience and the new foal is healthy, you will need to pay close attention to her care while she is pregnant. The first thing is to understand the different changes your mare will go through during this time. The care she receives now will determine her birth experience and the health of the new foal. Our team at Doggie Dude Ranch can assist you with information and support your pregnant mare needs.
Nutrition
Nutrition will be vital to your mare's health during her pregnancy. During the first part of gestation, you will not need to make any changes to the horse's food. However, once your mare reaches the last three months of pregnancy, nutrition needs do change. During this time, you will need to gradually increase your mare's food. This increase will meet the new demand on her body to support the growing foal and to start producing milk. She will also need more water as well.
You will also want to make sure the horse is separated from all sources of fescue. There are certain types of fungi in this grass that can cause problems for pregnant horses.
Exercise
It is very important that you allow your mare significant time each day out at pasture. This gives her the opportunity to graze and get much-needed exercise. Your horse will need her strength to see her through the delivery of the foal. If a horse is not allowed significant time to exercise, it will become weak. This could complicate the birthing process, which could endanger the horse or the foal.
Keep Watch
It is your responsibility to closely watch your mare during this time. You will want to watch out for any changes in attitude and appetite. You will also want to notice if your horse seems overly uncomfortable. Pay attention to the udders to detect any infection. If you notice any problems, you will want to get your horse seen by a veterinarian as soon as possible.
Quality Animal Boarding
If you would like to learn more about our equine care in Ames, IA, for your breeding mares or our boarding services, please call Doggie Dude Ranch at (515) 382-1444.
---
Breeding season has started, click here to book your mare for breeding services!
Quality vet care for your horse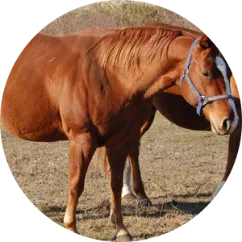 Get the best care for your mare
If your mare is pregnant, you can turn to our professionals for the care that she needs throughout her pregnancy. Make sure your mare is kept healthy during her pregnancy with ultrasound examinations and quality equine care. If you want your mare to reproduce, cycle management with shipped semen is available.
Specializing in reproductive management of mares for artificial insemination and estrous synchronization for breeding.
* Cooled shipped
* Frozen semen